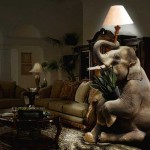 Although one might think Chris Christie is the Elephant in the Room in the Real Estate market it is " Why isn't my house selling".. Maybe you realtor is not telling you the truth or you don't want to believe it.. The truth is the prices are still too high for low end homes. I have noticed that in the Mount Washington Valley a started home is out of reach for most buyers. I have watched priced in southern New Hampshire and Northern Mass come down enough to be reasonable especially considering that the work available to people in that market area has higher base pay than in the North Conway Area. The vacation market of Real Estate from Jackson to Hales Location is fairly slow for homes under a certain price range.. What does this mean.. Well people with money still have money. They are not looking for a fixer-upper vacation home and that higher end market is affected but not as much. People who bought at the height of the market should be still looking at this time to take some type of a loss as the market is not back yet. When I am looking for a 150-200k home which there should be plenty of there are almost none. What there is available between 100-200k is a mess. The incomes in this area are not supporting that next tier of family homes and that is not a well sought after vacation home.
I am sorry- I know this is hard to hear, but homes here should not be costing more than in the southern NH and Boston Area. That is why our market is still so sluggish here. If there is a well priced home it goes fast.. Why? It is well priced. This is coming from experience. I Had a call from someone who I helped buy a home a few years ago looking to sell. They wanted to list far over what they paid and far over my recommended price based on the comps. I gave them what I though the list price should be. Needless to say they went with another agent. The house sat and sat for months. The price kept dropping and dropping. Now the price has gone lower than what I originally gave them and has gone under contract. Now- Has they listed for that lower range originally they would have sold faster closer to their price. They would have saved months of taxes, property maintenance fees, mortgage payments and hassle.
Why are people still doing this? Good question.. Is it because everyone watches Million Dollar Listing on Bravo and thinks that they have a million dollar home? Perhaps. Is it because everyone thinks that they know how to do a Realtors job better than the Realtor?? Perhaps.. The bottom line is everyone wants to make the most money that they can. Who doesn't, but the reality is that there are comps for a reason and it is to get the right price for the home. The bank is not interested in loaning money on a home that is over valued and a buyer does not want to pay for that either. So sellers- Let's take a look at some of those prices and see what the comps are..
If you want a professional opinion feel free to give me a call. It is what I do.